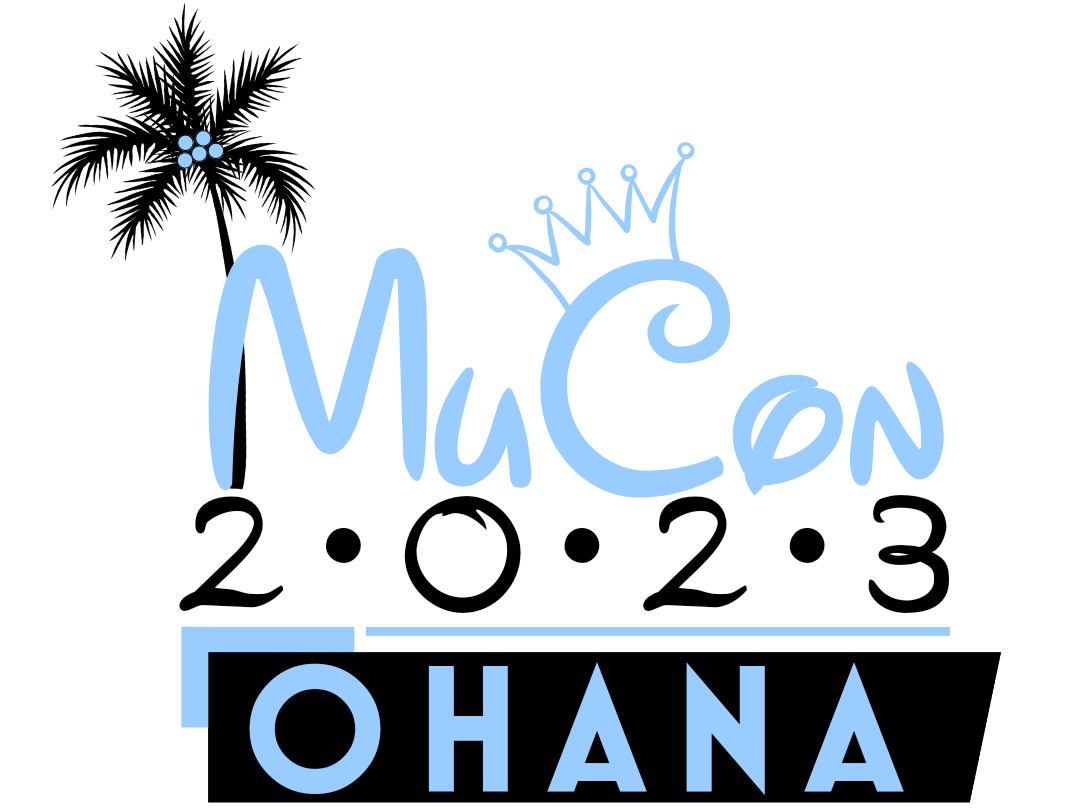 "Ohana means family. Family means nobody gets left behind or forgotten."
– Lilo & Stitch –
We are pleased to announce our first ever Friends and Family Convention.  
MuCon 2023: Ohana –

National Convention Weekend
June 8 – 11, 2023
Tickets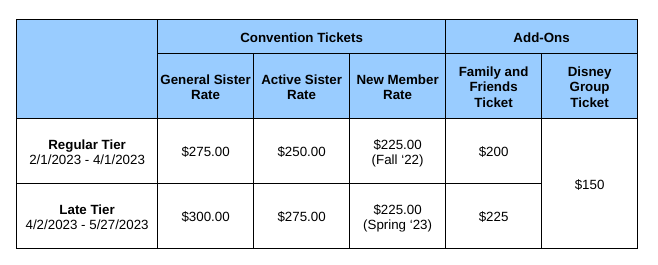 Please note, all tickets are per person.
Registration tickets are now available to all sisters via eventbrite with the option to add-on convention tickets for friends and/or family members as well as discounted tickets for our optional MuCon outing at Disney's Magic Kingdom on June 9th. 
Hotel Information
Embassy Suites by Hilton – Orlando Lake Buena Vista South
4955 Kyngs Health Road
Kissimmee, FL 34756
Room Rate: $159/night (+13% tax per room/per night)

Two Queen – Two Room Suite (sleeps 4-6)

Living Room with pull out couch and Bedroom with two queen size beds

One King – Two Room Suite (sleeps 4)

Living Room with pull out couch and Bedroom with one king size bed

Parking Rate: $10.00/day

Free Wi-Fi Included in Group Pricing

Discounted Rates End

Monday May 17, 2023

 

Book Your Room Online using Discount Code
General Schedule
Thursday, June 8

Registration/Check-In

Pick up your complimentary convention swag!

Evening Welcome Reception

Complimentary wine, beer, and appetizers

Friday, June 9

Sisterhood Bonding

Group Trip to Disney World Magic Kingdom (Recommended but not required)

Additional local activities will also be available

Saturday, June 10

National Meeting

Reports (NGC, Undergraduate and Aretias Chapters, Districts, National Aretias, MSU Foundation)

Delegate Voting (2023-2024 Budget, NGC Elections, Proposals)

Workshops

Sister Workshops

Ladies Night: Family and Friends Edition!

S.T.A.R Awards Formal

Presentation of S.T.A.R. Awards, Dinner, DJ and Dancing, Open Bar

Sunday, June 11

MSU Foundation's 6th Annual

Run Like an Amazon

(Virtual 5K Race)

Farewell Brunch
*Schedule subject to change. Stay tuned for more information!
FAQs
What is MuCon?
MuCon is Mu Sigma Upsilon's Annual National Convention. The First Annual National Convention was held August 6-8, 2004 at the Richard Stockton State College of NJ in Pomona, NJ. Now held every June, MuCon brings sisters across the country together to discuss sorority business, attend sisterhood and leadership workshops, network with sisters from all different backgrounds, and, most importantly, to promote sisterhood and strengthen our bonds.
What does a sister ticket include?
Sister tickets include branded giveaways, food and events, workshop materials, group discounts, plus a weekend full of memories and connections to last a lifetime. All for the same price as MuCon 2022… and this time in sunny Florida, just 10 minutes from Walt Disney World!​
What does a Family/Friend Ticket include?
Family and Friend tickets are per person and include food, activities and other give-aways and group discounts! Family and Friends are welcome to attend all non-sister-only events, including the welcome reception, STAR Formal, Sunday brunch, and more! Please note: the STAR Formal is open to ages 16 and up. Childcare will be available at the hotel for younger attendees.
What is the Annual National Meeting?
The National Meeting is held annually during the National Convention. Every governing body (chapter, district, and aretias) must send one delegate. The delegate must go to the meeting prepared with their representative vote for NGC officer elections, annual budget, and any proposals. Each delegate also provides a report and announcements for the chapter, district, or other council they represent. Delegates must register and pay for convention and must be an active (financial) sister. The National Meeting is also open to all sisters who wish to attend.
What are the S.T.A.R. Awards?
The S.T.A.R. Awards recognize chapters and sisters for all of their hard work throughout the year. Through sister nominations and voting as well as S.T.A.R report submissions, the S.T.A.R. awards celebrate chapter, district, and individual sisters who exemplify our goals of academic excellence, unity amongst all women, and being active in the university and community.
Is there a dress-code for the S.T.A.R. Formal?
Semi-formal attire. Dress to impress and have some fun!
Do I have to attend everything?
Chapter and District Representatives must be present at both National Meeting AND all sister workshops
Is there a payment plan or financing available?
Eventbrite offers multiple payment options including a Paypal Monthly plan and the Paypal Pay in 4 plan. Both subject to approval.
Local Transportation:
Orlando International Airport (MCO): 20 miles

Orlando Sanford International Airport (SFB): 50 miles

Tampa International Airport (TPA): 77 miles