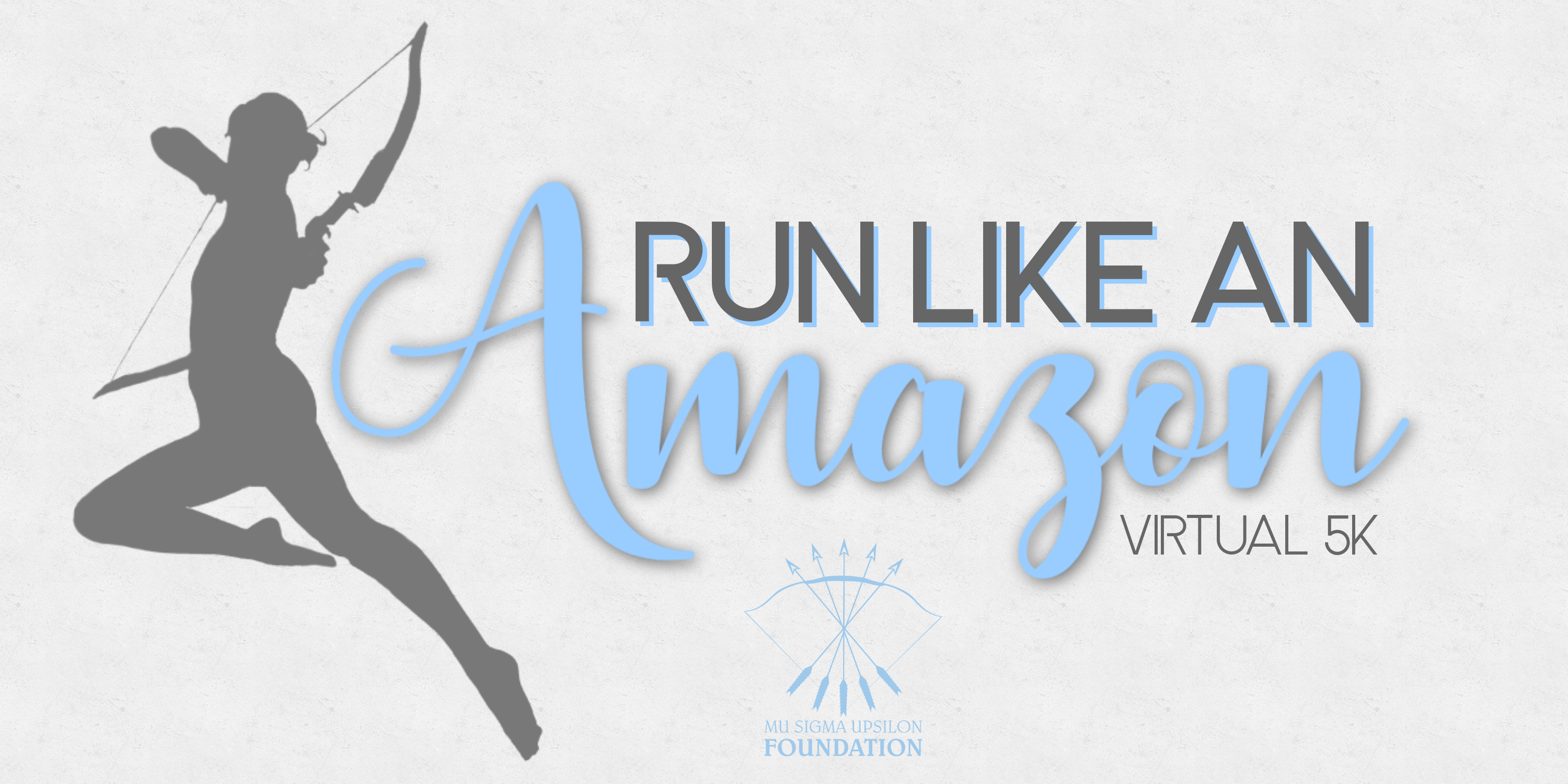 Lace up your running shoes and join the Mu Sigma Upsilon Foundation to Run Like an Amazon!
Participate in this year's 3rd Annual Run Like an Amazon Virtual 5K race anytime on November 17, 2019. The purpose of the race is to raise funds to empower women educationally and culturally and enrich the lives of our communities through our Scholarships, Grants, and MUnited Nations Funds programs. Registration for Run Like an Amazon is $19.81 per participant. All registered participants will receive a limited edition Run Like an Amazon T-Shirt and MSU Foundation Lightweight Visor! You choose the time, place and pace!! All you need to do is register and go for it!
Join us on social media! #RunLikeAnAmazon
Hosting a meet-up is a unique way to build momentum in your community and share the message of empowering women. It's an opportunity to connect with other sisters and MSU Foundation supporters interested in running or walking the 3.1-miles together.
We encourage you to Create your Fundraising Page to share the time and place, and route where you'll start the 5k. To help you plan, we've created a meet-up guide that you can Download here.
Be sure to Register your Meet-Up You'll be given the option to publish and share your meet-up details so others in your community can join you!
To see a list of current meet-ups, check out the up-to-date sheet at the link below. For more information, please email foundation@msu1981.org.
2017 and 2018 Run Like an Amazon T-Shirts, Medals, and 20 oz Water Bottles are 

on sale

at clearance prices!
FREQUENTLY ASKED QUESTIONS
What is a "virtual" race?
A virtual race is a self-motivated competition organized online in which you complete a specific distance by running, walking or cycling, anywhere in the world. Virtual racing can be done on a treadmill at home or at the gym, at the beach with friends, alone, in the evening, or at the break of dawn, your choice. Throughout the race, share your pictures and experience with the Mu Sigma Upsilon Foundation social media outlets with the hashtag #RunLikeanAmazon
Where is the race?
Glad you asked! Virtual runners are welcome to run or walk whatever route works for them, wherever they are or you can join a Meet-Up. Click here for a list of current Meet-Ups!
How will I receive my t-shirt, and sport bottle?
Virtual runners can choose to receive all materials from their team leader the day of the race OR pay for S+H and have their limited edition Run Like an Amazon T-Shirt and MSU Foundation Lightweight Visor mailed directly to them.
How do I set up a virtual race Meet-Up?
First, be sure to select a location that is well lit and known to you. Visit the location at the time you will be hosting the race to ensure lighting and safety of participants. Next, register yourself to receive your limited edition Run Like an Amazon T-Shirt and MSU Foundation Lightweight Visor. Finally, register your Meet-Up and recruit others to race with you!
Who can participate?
TheRun Like an Amazon Virtual 5K is open to participants of all ages. If you can walk, jog or run a 5K, you can participate! Feel free to invite all of your friends and family to participate with you. This event is open to sisters, friends and family!
I'm not sure I can run a 5K, can I still participate?
Yes! You do not have to run. You can walk, jog, run, or do a combination of all three – just get to the finish line because an Amazon never quits!
Why are we doing this again?
Proceeds from the Run Like an Amazon Virtual 5K will go to The Mu Sigma Upsilon Foundation, which aims to provide scholarships, grants, and financial assistance to support different stages for local and international disaster relief operations.