A Brief History
By the early 1980s, more women from culturally diverse backgrounds were pursuing college degrees. In this exciting time, five women came together to create a support system for these women, a student organization that would celebrate diversity and foster progress for years to come. Through their dedication, Mu Sigma Upsilon Sorority, Incorporated was founded on November 21, 1981 at Rutgers University New Brunswick as the first multicultural sorority in the nation.
Mu Sigma Upsilon has grown to a national sisterhood with over fifty chapter locations ranging from Massachusetts to Texas, and a diverse group of more than 1,000 women from 80+ cultural backgrounds. Although the 21st century poses different challenges for women in higher education, one thing remains the same – Mu Sigma Upsilon is still a home away from home for our sisters.
Founding Mothers
We refer to the five women who founded Mu Sigma Upsilon as our founding mothers, for they achieved what mothers do and began a family. To this day, they still care for and guide our sorority and its sisters.
Eve Bracero
Lillian Sierra
Karinee Candelario
Ruth Gonzalez
Sylvia Vigo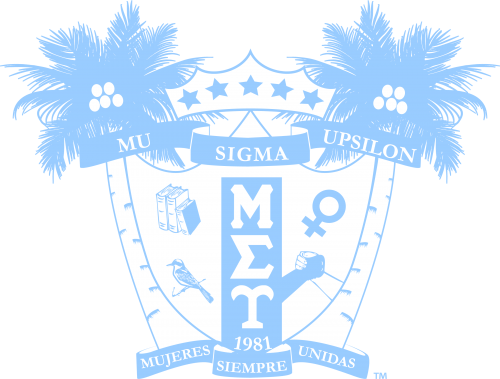 Symbols & Traditions
Motto: Mujeres Siempre Unidas / Women Always United
Official Colors: Baby Blue and White
Official Mascot: The Amazon woman, strong, fierce and independent.
Nicknames: Nationwide we are known as the Sophisticated Ladies of MSU, or The MUs (pronounced mews) for short.
Fun Fact: Chapters are not named using the Greek Alphabet. Each chapter's name is unique, chosen by their founders for its significance to their story and within the fabric of the organization.
"…for the strengthening of all women, Mu Sigma Upsilon was formed by five selected women officially recognized on November 21, 1981, here at Rutgers University. Its purpose is to unite all women from all different nationalities and share with them our theme 'Women Always United.' Together, we share the same purpose concerning our academic, political, and social interests."

Eve Bracero, Founding Mother
Upsilon Family
By definition, a family is: descendants of a common ancestor.  The creation of the Upsilon Family brought forth a lineage of excellence and the beginning of a millennium of cultural homage. Born from a common seed and developed into a divine entity, our family is a special place where we share life's experiences using both the positive and negative as tools of enrichment.  Together we will pave the way for the men and women for generations to come.  Lambda Sigma Upsilon and Mu Sigma Upsilon are dedicated to the unification of a human race.  From our ancestors we obtained the most sacred part of us.  Bound by our history and tradition we will forever remain the Upsilon Family.
To learn more about the brothers of Lambda Sigma Upsilon Latino Fraternity, Incorporated you may visit their website at www.lsu79.org