Through​ ​the​ ​MUnited​ ​Nations​ ​Program,​ ​the​ Mu Sigma Upsilon Foundation provides​ ​financial assistance​ ​to​ ​support​ ​different​ ​stages​ ​for​ ​local​ ​and​ ​international​ ​disaster​ ​relief​ ​operations.​ ​The financial​ ​assistance​ ​​funding​ ​is​ ​derived​ ​directly​ ​from​ ​disaster​ ​relief​ ​grants​ ​and​ ​contributions​ ​made to​ ​the​ ​foundation.​ ​MUnited Nations Funds are awarded throughout the year as funds are available. The​ ​types​ ​of​ ​assistance​ ​available​ ​are below.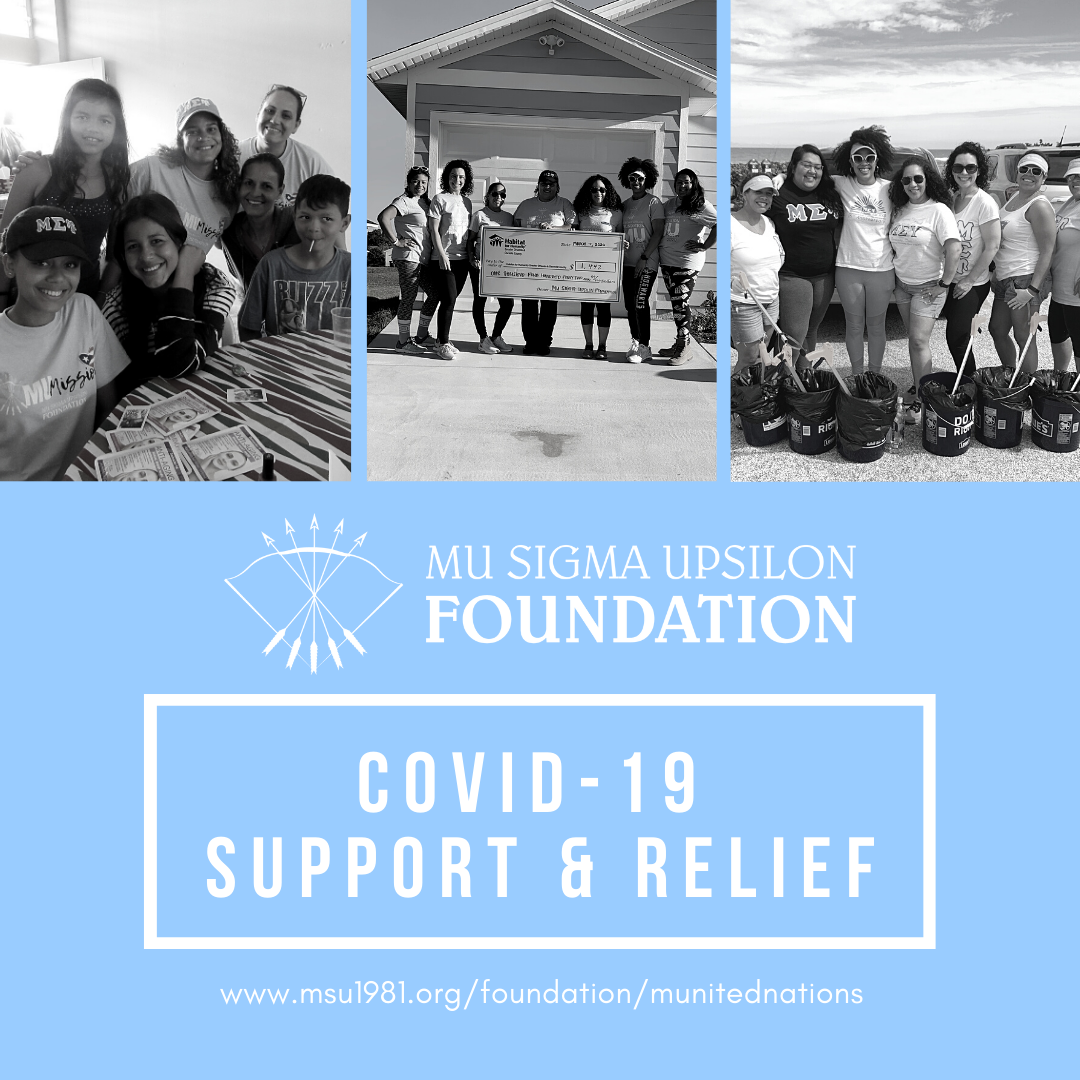 On March 11, 2020 the World Health Organization (WHO) declared COVID-19 a global pandemic. SARS-CoV-2 is a new SARS related coronavirus that causes COVID-19, a pneumonia/ respiratory type disease. This disease has spread exponentially to many regions of the world, thus creating a global health crisis For additional information, please visit:
The Mu Sigma Upsilon Foundation is committed to continue our mission of supporting and strengthening our communities. During this unprecedented time, we're especially committed to ensuring our sisters, families, and fellow greeks impacted by this pandemic can seek relief and recovery efforts from our foundation. As such, we are pleased to launch a COVID-19 Relief and Resources Campaign.
The Mu Sigma Upsilon Foundation will be providing Relief and Support Resources efforts to eligible individuals. Please see below for more information on how to apply for funds or to make a donation.
Alumnae​ ​Sister​ ​Crisis​ ​Fund
Through​ ​the​ ​Alumnae​ ​Sister​ ​Crisis​ ​Fund,​ ​the​ ​Mu Sigma Upsilon ​Foundation​ ​provides​ ​immediate financial​ ​assistance​ ​in​ ​the​ ​form​ ​of​ ​a​ ​grant​ ​to​ ​an​ ​initiated​ ​Mu​ ​Sigma​ ​Upsilon​ ​alumna/sister​ ​who​ ​is experiencing​ ​dire​ ​financial​ ​need​ ​and​ ​who​ ​has​ ​exhausted​ ​other​ ​sources​ ​of​ ​financial​ ​assistance (through​ ​medical​ ​insurance,​ ​family​ ​or​ ​bank​ ​loans,​ ​etc.).​ ​Consideration​ ​is​ ​given​ ​to​ ​applicants​ ​in​ ​a personal​ ​crisis,​ ​emergency​ ​situation​ ​due​ ​to​ ​medical​ ​reasons​ ​or​ ​natural​ ​disasters. Apply Here
Individual Emergency Fund
Through our Individual Emergency Fund, the​ ​Mu Sigma Upsilon ​Foundation​ ​provides financial​ ​assistance​ ​for basic necessities such as food and clothing. This fund would be in time of dire need and emergency. This can be applied to any member of the community that has been affected by losing their home in a fire, flooding, foreclosures, homelessness, etc. Apply Here
Community Recovery Fund
Grants up to $500 will be awarded to local communities which have been affected by natural disasters ranging from wildfires, floods, loss of electricity, blizzard, hurricanes, earthquakes, etc. Funding is intended for, but not limited to organizations, programs or equipment that will aid and be effective in helping the community to reconstruct. Apply Here