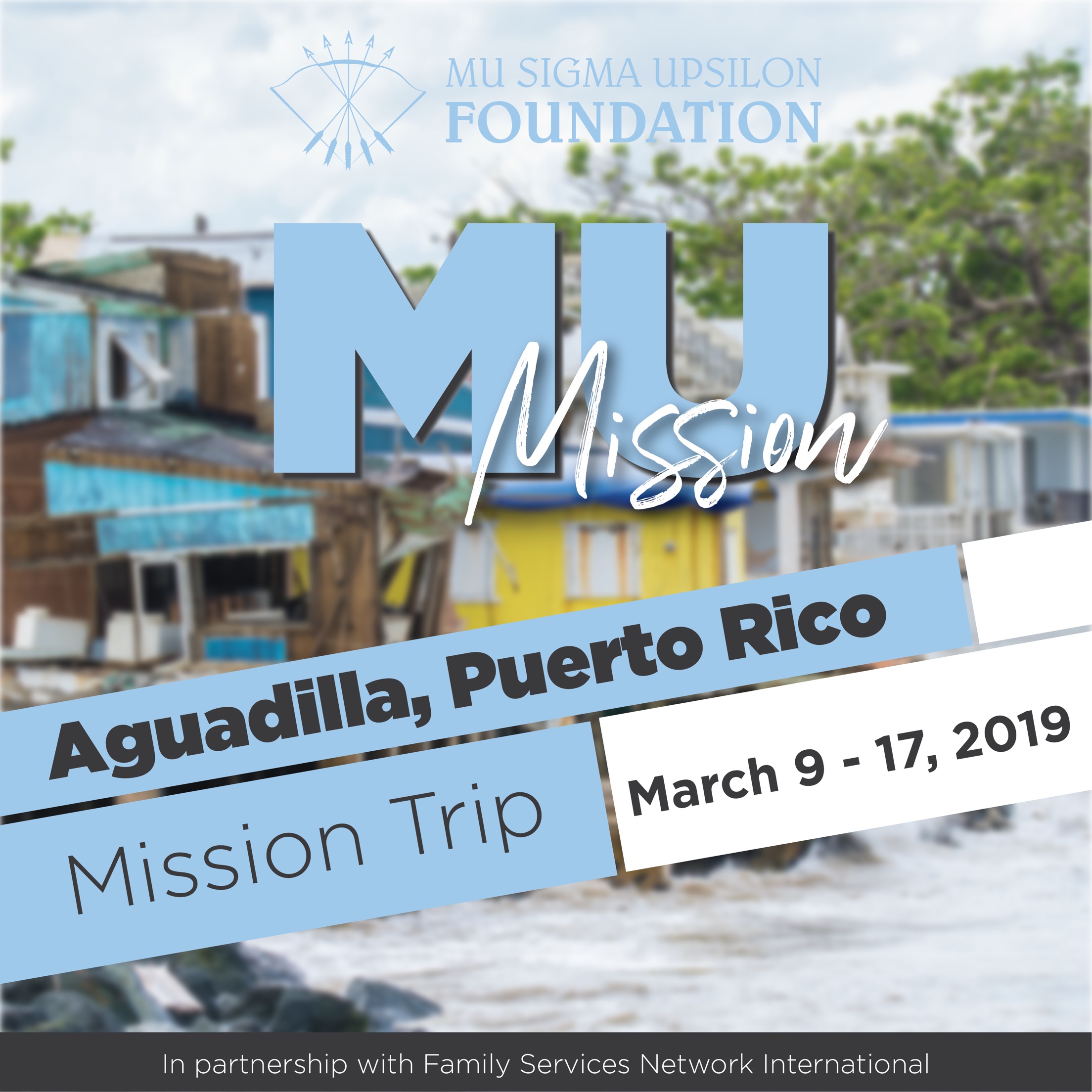 Mu Sigma Upsilon announces mission trip to Puerto Rico!
In September 2017 hurricane Maria devastated the island of Puerto Rico causing 96 percent damage to their infrastructure. On Sept. 13, 2018, BBC reported that a study done by George Washington University found that approximately 2,975 persons lost their lives due to the impacts of the storm. This historical death toll surpasses the deaths accounted for during Hurricane Katrina or during 9/11. Puerto Rico also suffered catastrophic damage and a major humanitarian crisis; most of the island's population suffered from flooding and lack of resources, compounded by the slow relief process. The storm caused the worst electrical blackout in U.S. history and in June 2018, thousands of homes and businesses were still without power. To date, approximately 40,000 residents are still without power and are living under harsh conditions. George Washington University Study BBC reported that over 20,000 pallets of water bottles on a runway were left undistributed by FEMA.
As a result residents of Puerto Rico are still in need of support to help restore the Island. Spearheaded by the MSU National Officer of Philanthropy, Nicolle Arendt, Mu Sigma Upsilon and its Foundation have partnered with the Family Services Network of New York to support the communities and families in Augadilla, Puerto Rico through the 2019 Mu Mission Trip from Saturday, March 9, 2019-Sunday, March 17, 2019. Family Service Network has facilitated 3 mission trips to date since the hurricanes and has developed professional, reliable relationships within the community of Aguadilla
Mission groups will be working on Farming, Roof Repair, Creating Houses, engaging with Nursing Home residents, assisting with Mental Wellness, visiting shelters for women and children and working with the LGBTQ+ youth. Nicolle hopes this Mission Trip will be the beginning of annual organization wide mission trips throughout the world where members of MSU as well as their children and family members will eventually be able to participate.
With the help of local communities, families, and friends, the goal is to raise $5,000 towards purchasing donations for the mission trip.
Below are projected supplies we will need, as well as donations that will be acceptable for mass ship to the island. A few things are listed twice since to represent items we are both donating and consuming.
Helmets
Gloves
Hammers
Nails
First Aid Kits
Mosquito nets
Mosquito spray
Water filters
Trash bags
Donation List
Bottle Water
Baby Wipes
Hand Sanitizer
Diapers (baby)
Diapers (Senior)
Canned food
Dry food
Baby Formula
Garbage bags
Canned Milk
Canned and dry pet food
Baby/adult pain relief medicine
Stomach relief medicine
Mosquito repellent
Blankets and Pillows
First Aid kits
Laundry Detergent
Dish Soap
Clothes
Toiletries
Female hygiene products
Baby bottles
Solar/manual flashlights
Toilet paper/paper towels
If you are interested in donating money or items towards this mission trip please contact us. For more information and updates on the trip check out our website.
Related Post