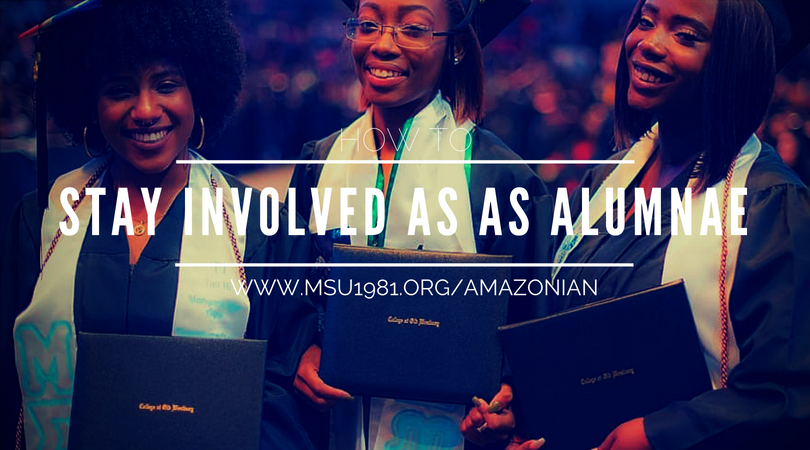 How to stay involved as an Alumnae
Getting involved as an alumnae can seem like a daunting task. Unlike undergrad, there is no rigid structure–no executive board, no mandates from a college or university, and no need to attend monthly meetings. Similar to learning to navigate life without the structure of classes and extracurricular activities, alumnae must also learn to navigate continued involvement in MSU. No longer will you have people instructing you to fill out this or that form–unless you want to. No longer will you be fined for not attending a mandatory meeting–unless you choose to take on a position that has that responsibility. No longer will you have your involvement in MSU mandated for you. Now, it is your turn to choose how you can represent MSU best.
Whether you joined as an undergraduate or joined the Aretias chapter from jump, you are a wealth of knowledge and an invaluable resource to your fellow sisters. You have the skill sets and ability to guide younger members, be a positive change on your community, and lead MSU in progressive new directions. Without the support of alumnae, MSU would not have reached the incredible heights we have obtained thus far, and continued involvement is essential for our continued growth and success. Below is simply a short list of ways you can get further involved as an alumnae.
Join or create a local Aretias Chapter

Become an Alumnae Advisor to an Undergraduate Chapter

Join the Aretias Book Club

Participate in development of New Members as a Big Sister

Get involved with the MSU Foundation
Join the Aretias Networking Groups 

Attend open Quarterly Meeting Conference Calls

Assist in planning Local Sisterhood Events

Submit Amazonian Blog Posts (Send to:

communications@msu1981.org

)

Host a webinar training for sisters
We also encourage you to continue coming up with innovative ideas to stay involved and continue fostering that baby blue fire within. We are incredibly proud of how far each of you has come and how much each of you has accomplished. Thank you for the continued wisdom and love you have shown your sisters, which has continued to help MSU feel like home.
Related Post