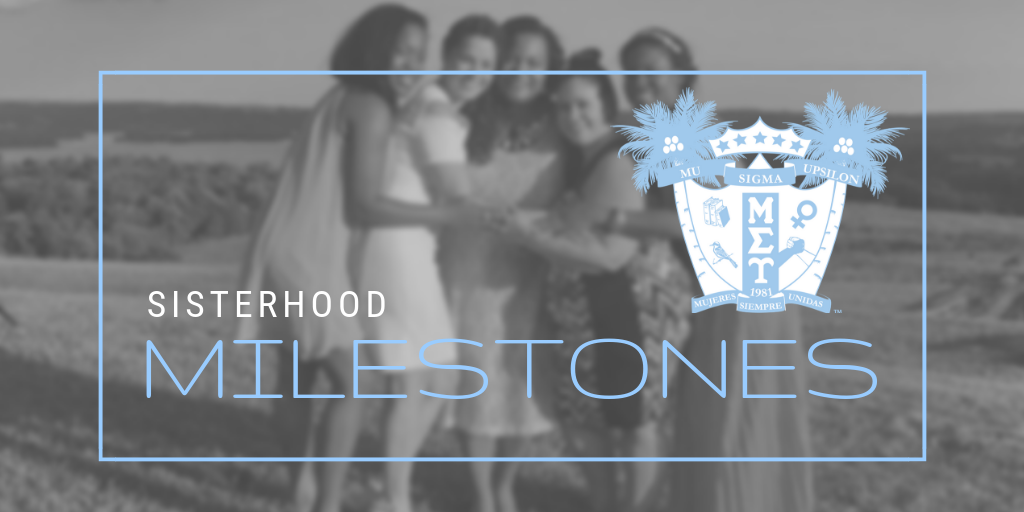 Members celebrate milestone years of sisterhood!
Tomorrow, Mu Sigma Upsilon Sorority, Inc. will celebrate 37 years of sisterhood. 37 years since the five founding mothers established an organization designed to support diversity, multiculturalism, inclusion and sisterhood. During this time, MSU has been able to pursue a number of accomplishments including the establishment of 60 undergraduate chapters, our Aretias local graduate chapters,  MU Mission Trip, and our very own 501(c)(3) charitable non-profit Foundation.  Our organization would not have been able to achieve this momentous occasion without the support of each and every one of our members. We would like to send a warm and heartfelt congratulations to all the Mu Sigma Upsilon sisters celebrating milestone years of sisterhood this year. As a token of our appreciation we would like to present you with a service pin recognizing your years of service. Be sure and login to your OrgSync account and request your pin in honor of this celebratory event.
Congratulations to all sisters celebrating milestones this year.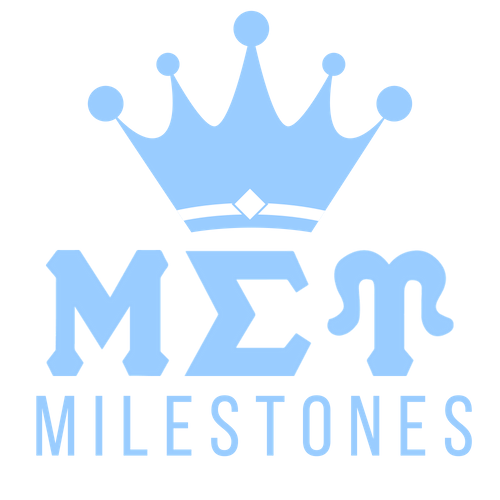 | | | | | |
| --- | --- | --- | --- | --- |
| Chapter | Semester | Year | Sister | Years of Sisterhood |
| Amazona | Fall | 1983 | Maryann Vasquez | 35 |
| Siksika | Fall | 1983 | Brenda Rodriguez | 35 |
| Siksika | Fall | 1983 | Lachelle Uzcateguigaymon | 35 |
| Siksika | Fall | 1983 | Theresa Mesiano | 35 |
| Amazona | Fall | 1988 | Brenda Cruz | 30 |
| Amazona | Fall | 1988 | Susan Bozzone | 30 |
| Amazona | Fall | 1988 | Maria Gonzalez | 30 |
| Amazona | Fall | 1988 | Zayda Cintron | 30 |
| Amazona | Fall | 1988 | Michelle Serrano | 30 |
| Amazona | Spring | 1993 | Evelyn Icasiano | 25 |
| Amazona | Spring | 1993 | Rachel Shafran | 25 |
| Amazona | Spring | 1993 | Karen Benedetti | 25 |
| Amazona | Spring | 1993 | Irahisa Disla | 25 |
| Amazona | Spring | 1993 | Danielle Smith | 25 |
| Amazona | Spring | 1993 | Marivel Morillo | 25 |
| Amazona | Spring | 1993 | Karen Valdez | 25 |
| Siksika | Spring | 1993 | Diana Gonzalez | 25 |
| Siksika | Spring | 1993 | Xiomara Gonzales | 25 |
| Siksika | Spring | 1993 | Barbara Medina | 25 |
| Siksika | Spring | 1993 | Janine Guillian | 25 |
| Matriarca | Spring | 1993 | Melinda Diaz | 25 |
| Matriarca | Spring | 1993 | Linda Melendez | 25 |
| Matriarca | Spring | 1993 | Alanna Garcia | 25 |
| Matriarca | Spring | 1993 | Alma Muniz | 25 |
| Aborigena | Spring | 1993 | Maritza Lebron | 25 |
| Aborigena | Spring | 1993 | Shiva Bahmani | 25 |
| Aborigena | Spring | 1993 | Jacqueline Rosa | 25 |
| Mosaic | Spring | 1993 | Jenny Garcia | 25 |
| Mosaic | Spring | 1993 | Silvia Aponte | 25 |
| Mosaic | Spring | 1993 | Sylvia Rodriguez | 25 |
| Mosaic | Spring | 1993 | Lisa Crespo-Trueblood | 25 |
| Amazona | Fall | 1993 | Ana Echeverria | 25 |
| Amazona | Fall | 1993 | Maria Romero | 25 |
| Amazona | Fall | 1993 | Janet Jaquez | 25 |
| Amazona | Fall | 1993 | Edith Mora | 25 |
| Amazona | Fall | 1993 | Maria Cristina Guerrero | 25 |
| Amazona | Fall | 1993 | Annairis Dominicis | 25 |
| Amazona | Fall | 1993 | Marlenne Dominguez | 25 |
| Aborigena | Fall | 1993 | Jessica Flores | 25 |
| Siksika | Spring | 1998 | Amabelle Cardenas | 20 |
| Siksika | Spring | 1998 | Glennis Reyes | 20 |
| Siksika | Spring | 1998 | Vennansha Williams | 20 |
| Siksika | Spring | 1998 | Jennifer Quitiquit | 20 |
| Matriarca | Spring | 1998 | Alexandra Vallejo | 20 |
| Matriarca | Spring | 1998 | Maria Nina Jimenez | 20 |
| Matriarca | Spring | 1998 | Vivian Bonilla | 20 |
| Matriarca | Spring | 1998 | Joanna Urbaez | 20 |
| Mosaic | Spring | 1998 | Monique Chevalier | 20 |
| Mosaic | Spring | 1998 | Naomi Tisseverasinghe | 20 |
| Mosaic | Spring | 1998 | Mayra Munoz | 20 |
| Mosaic | Spring | 1998 | Alejandra Rodriguez | 20 |
| Mosaic | Spring | 1998 | Jessica Peralta | 20 |
| Zaona | Spring | 1998 | Tami Buckingham | 20 |
| Zaona | Spring | 1998 | Melissa Espinoza | 20 |
| Amazona | Fall | 1998 | Maritza Rodriguez | 20 |
| Amazona | Fall | 1998 | Hong Su | 20 |
| Amazona | Fall | 1998 | Pamela Simon | 20 |
| Amazona | Fall | 1998 | Patricia Lee | 20 |
| Amazona | Fall | 1998 | Serena Reyes | 20 |
| Amazona | Fall | 1998 | Kimberly Cheung | 20 |
| Amazona | Fall | 1998 | Brandie Lynn | 20 |
| Indigena | Fall | 1998 | Amanda Cobb | 20 |
| Indigena | Fall | 1998 | Maria Soraya Mos | 20 |
| Jhansi | Fall | 1998 | Amanda Zitron | 20 |
| Palenque | Fall | 1998 | Jazmin Ronquillo | 20 |
| Palenque | Fall | 1998 | Deborah Capo | 20 |
| Palenque | Fall | 1998 | Latoya Lopez | 20 |
| Palenque | Fall | 1998 | Karen Quintero | 20 |
| Palenque | Fall | 1998 | Gina Pozadas | 20 |
| Palenque | Fall | 1998 | Alicia Flood | 20 |
| Narra | Fall | 1998 | Maria Lea Quiray | 20 |
| Amazona | Spring | 2003 | Jasmin Jimenez | 15 |
| Amazona | Spring | 2003 | Tunisha Crews | 15 |
| Amazona | Spring | 2003 | Darlene Diaz | 15 |
| Amazona | Spring | 2003 | Venassa Venord | 15 |
| Aborigena | Spring | 2003 | Jennifer Beltran | 15 |
| Destinidas | Spring | 2003 | Tenise McCoy | 15 |
| Devi | Spring | 2003 | Andrea Pantoja | 15 |
| Evadne | Spring | 2003 | Melissa Hotaling | 15 |
| Evadne | Spring | 2003 | Michelle Ramirez | 15 |
| Evadne | Spring | 2003 | Ayanna Dutton | 15 |
| Evadne | Spring | 2003 | Jessica Tejeda | 15 |
| Evadne | Spring | 2003 | Yomaris Guerrero | 15 |
| Haumea | Spring | 2003 | Jennifer Coronado | 15 |
| Haumea | Spring | 2003 | Magdamaris Denizard | 15 |
| Haumea | Spring | 2003 | Lisette Ortiz | 15 |
| Haumea | Spring | 2003 | MaryAnn Yanez | 15 |
| Haumea | Spring | 2003 | Joanne Rabel | 15 |
| Haumea | Spring | 2003 | Cynthia Rodriguez | 15 |
| Haumea | Spring | 2003 | Janice Ramirez | 15 |
| Haumea | Spring | 2003 | Cristina Cuevas | 15 |
| Haumea | Spring | 2003 | Leslie Irizarry | 15 |
| Xurima | Spring | 2003 | Nataly Hernández | 15 |
| Xurima | Spring | 2003 | Tashanna Williams | 15 |
| Xurima | Spring | 2003 | Nicole Wagner | 15 |
| Xurima | Spring | 2003 | LaTasha Barrow | 15 |
| Amazona | Fall | 2003 | Daisy Carrasquillo | 15 |
| Amazona | Fall | 2003 | Chinyere Woke | 15 |
| Matriarca | Fall | 2003 | Lissette Diaz-Gomez | 15 |
| Aborigena | Fall | 2003 | Jessica Munoz | 15 |
| Aborigena | Fall | 2003 | Rosemary Severino | 15 |
| Mosaic | Fall | 2003 | Joy Talley | 15 |
| Mosaic | Fall | 2003 | Mariely Garcia | 15 |
| Zaona | Fall | 2003 | Daniela Triunfel | 15 |
| Concordia | Fall | 2003 | Mildred Triana | 15 |
| Abrianeme | Fall | 2003 | Diane Erd | 15 |
| Haumea | Fall | 2003 | Erika Roberts | 15 |
| Haumea | Fall | 2003 | Raquel Valls | 15 |
| Haumea | Fall | 2003 | AliceSun Norman | 15 |
| Xurima | Fall | 2003 | Kristy Dhaniram | 15 |
| Xurima | Fall | 2003 | Danielle Fitzpatrick | 15 |
| Genesis | Fall | 2003 | Ebonee Williams | 15 |
| Genesis | Fall | 2003 | Migdalia Perez | 15 |
| Genesis | Fall | 2003 | Dinnette Medina | 15 |
| Genesis | Fall | 2003 | Audie Torres | 15 |
| Genesis | Fall | 2003 | Jennifer Castro | 15 |
| Genesis | Fall | 2003 | Jamie McNeal | 15 |
| Siksika | Spring | 2008 | Denisse Rodríguez | 10 |
| Siksika | Spring | 2008 | Michelle Rodríguez | 10 |
| Las Conquistadores | Spring | 2008 | Solange Alfaro | 10 |
| Las Conquistadores | Spring | 2008 | Elizabeth Urgiles | 10 |
| Matriarca | Spring | 2008 | Stephanye Nunez | 10 |
| Matriarca | Spring | 2008 | Leyshla Moscoso | 10 |
| Matriarca | Spring | 2008 | Samira Ruiz | 10 |
| Matriarca | Spring | 2008 | Alicia Luz Torres | 10 |
| Matriarca | Spring | 2008 | Dana Fortino | 10 |
| Matriarca | Spring | 2008 | Darlene Santos | 10 |
| Matriarca | Spring | 2008 | Kathleen Guzman | 10 |
| Aborigena | Spring | 2008 | Vivi Nguyen | 10 |
| Aborigena | Spring | 2008 | Rashida Clark | 10 |
| Mosaic | Spring | 2008 | Tammie Wiles | 10 |
| Mosaic | Spring | 2008 | Diana Martinez | 10 |
| Mosaic | Spring | 2008 | Karina Pazmino | 10 |
| Mosaic | Spring | 2008 | Marlenis Liriano | 10 |
| Indigena | Spring | 2008 | Cindy Cardona | 10 |
| Indigena | Spring | 2008 | Thelma Dankwah | 10 |
| Indigena | Spring | 2008 | Meriam Daanouni | 10 |
| Indigena | Spring | 2008 | Noel Wood | 10 |
| Indigena | Spring | 2008 | Paula A. Olarte | 10 |
| Indigena | Spring | 2008 | Khrystine Roman | 10 |
| Zaona | Spring | 2008 | Ashley Howard | 10 |
| Concordia | Spring | 2008 | Pricilla Sade Fonseca | 10 |
| Haumea | Spring | 2008 | Stephanie Maldonado | 10 |
| Haumea | Spring | 2008 | Ashley Mitchell | 10 |
| Haumea | Spring | 2008 | Katrina McCormick | 10 |
| Haumea | Spring | 2008 | Monica Friedman | 10 |
| Genesis | Spring | 2008 | Sasha Baker | 10 |
| Genesis | Spring | 2008 | Cristina Tlaseca | 10 |
| Genesis | Spring | 2008 | Julisa Ann Medina | 10 |
| Genesis | Spring | 2008 | Jennifer Lynn Ojeda | 10 |
| Genesis | Spring | 2008 | Alyssa Rivera | 10 |
| Genesis | Spring | 2008 | Jennifer Cabrera | 10 |
| Genesis | Spring | 2008 | Rosa Marquez | 10 |
| Orisha | Spring | 2008 | Jilliannie Hamburgo | 10 |
| Lazuline | Spring | 2008 | Sydelle Irene Prosopio | 10 |
| Lazuline | Spring | 2008 | Angela Torres | 10 |
| Lazuline | Spring | 2008 | Yomary Castro | 10 |
| Lazuline | Spring | 2008 | Katherine Cruz | 10 |
| Lazuline | Spring | 2008 | Maria Gallo | 10 |
| Gaia | Spring | 2008 | Nayma Silver | 10 |
| Gaia | Spring | 2008 | Virginia Valerio | 10 |
| Gaia | Spring | 2008 | Jessica Urraca | 10 |
| Gaia | Spring | 2008 | Ana Vallecillo | 10 |
| Gaia | Spring | 2008 | Kimberly Stohl | 10 |
| Themiskyra | Spring | 2008 | Derenisse Infante | 10 |
| Themiskyra | Spring | 2008 | Jadid Zorilla | 10 |
| Themiskyra | Spring | 2008 | Belgica Lugo | 10 |
| Janus | Spring | 2008 | Janai Davis | 10 |
| Janus | Spring | 2008 | Digmarie Jimenez Morales | 10 |
| Novastella | Spring | 2008 | Marilitza Zayas | 10 |
| Novastella | Spring | 2008 | Dolly Ramos | 10 |
| Novastella | Spring | 2008 | Yaritza Zayas | 10 |
| Novastella | Spring | 2008 | Joanne Garcia | 10 |
| Novastella | Spring | 2008 | Kimara Martinez | 10 |
| Novastella | Spring | 2008 | Esther Butler | 10 |
| Aretias | Spring | 2008 | Carolina P. Velásquez | 10 |
| Aretias | Spring | 2008 | Catherine Clark | 10 |
| Siksika | Fall | 2008 | Michael Ann Carter | 10 |
| Las Conquistadores | Fall | 2008 | Katherin Briceño | 10 |
| Las Conquistadores | Fall | 2008 | Julia M Briceño | 10 |
| Matriarca | Fall | 2008 | Rosa Almonte | 10 |
| Aborigena | Fall | 2008 | Tania Cintron | 10 |
| Mosaic | Fall | 2008 | Priya Patel | 10 |
| Mosaic | Fall | 2008 | Jeniffer Santiago | 10 |
| Mosaic | Fall | 2008 | Chelsie Connelly | 10 |
| Indigena | Fall | 2008 | Geneva Briggs | 10 |
| Indigena | Fall | 2008 | Ajia Renie Rivera | 10 |
| Zaona | Fall | 2008 | Reina Olivera | 10 |
| Haumea | Fall | 2008 | Camille Chong | 10 |
| Haumea | Fall | 2008 | Nicole Rivera | 10 |
| Haumea | Fall | 2008 | Ashley Hill | 10 |
| Genesis | Fall | 2008 | Kristin Reichlein | 10 |
| Quinquatria | Fall | 2008 | Ekatherina E. Carrera | 10 |
| Kyathira | Fall | 2008 | Catherine Valdez | 10 |
| Themiskyra | Fall | 2008 | Susanna Woo | 10 |
| Hasinai | Fall | 2008 | Erica Estrada | 10 |
| Zotikon | Fall | 2008 | Tahirah Dutton | 10 |
| Amazona | Spring | 2013 | Lina Forero | 5 |
| Amazona | Spring | 2013 | Genesis M Concepcion | 5 |
| Amazona | Spring | 2013 | Stephanie Flores | 5 |
| Amazona | Spring | 2013 | Lauren Picciallo | 5 |
| Amazona | Spring | 2013 | Alissa Correa | 5 |
| Amazona | Spring | 2013 | Melissa Kaszuba | 5 |
| Matriarca | Spring | 2013 | Ileana Michelle Hernandez | 5 |
| Matriarca | Spring | 2013 | Carin Michelle Leiva | 5 |
| Matriarca | Spring | 2013 | Michelle Anette Cuenca | 5 |
| Matriarca | Spring | 2013 | Vivian Sophia Moreno | 5 |
| Matriarca | Spring | 2013 | Kelsey Bryana Nieves | 5 |
| Matriarca | Spring | 2013 | Andrea Marcela Castillo | 5 |
| Matriarca | Spring | 2013 | Ashley Nunez | 5 |
| Matriarca | Spring | 2013 | Laura Diaz | 5 |
| Matriarca | Spring | 2013 | Blanca Carolina Rivas | 5 |
| Matriarca | Spring | 2013 | Jeannabel Olga Reyes | 5 |
| Matriarca | Spring | 2013 | Fabiola Isabel Vargas | 5 |
| Matriarca | Spring | 2013 | Tiffany Torres | 5 |
| Aborigena | Spring | 2013 | Maria Rosa | 5 |
| Aborigena | Spring | 2013 | Kimberly Gutierrez | 5 |
| Mosaic | Spring | 2013 | Marianely Martinez | 5 |
| Mosaic | Spring | 2013 | Jasmine Robinson | 5 |
| Jhansi | Spring | 2013 | Tiffany Vargas | 5 |
| Jhansi | Spring | 2013 | Blanca Gabriela Villa | 5 |
| Jhansi | Spring | 2013 | Melany Cruz Rodriguez | 5 |
| Jhansi | Spring | 2013 | Debra Martinez | 5 |
| Jhansi | Spring | 2013 | Traci Nicole Jones | 5 |
| Jhansi | Spring | 2013 | Gloria Santiago | 5 |
| Jhansi | Spring | 2013 | Michelle Amanda Carrigan | 5 |
| Emeritus | Spring | 2013 | Patricia Bergamasco | 5 |
| Nysa | Spring | 2013 | Michelle Rivera | 5 |
| Gaia | Spring | 2013 | Taylor Thomas | 5 |
| Gaia | Spring | 2013 | Fatima Johnson | 5 |
| Gaia | Spring | 2013 | Georgina Morillo | 5 |
| Kyathira | Spring | 2013 | Christine Valdez | 5 |
| Zotikon | Spring | 2013 | Tasha M. James | 5 |
| Kailasa | Spring | 2013 | Jamelia Jones | 5 |
| Kailasa | Spring | 2013 | Leigh Ann Warfield | 5 |
| Kailasa | Spring | 2013 | Kiara Rodríguez | 5 |
| Boetia | Spring | 2013 | Eulalia Mendez Thomas | 5 |
| Boetia | Spring | 2013 | Nadjuma Jean-Simon | 5 |
| Boetia | Spring | 2013 | Deaje Taylor | 5 |
| Kumi | Spring | 2013 | Amber Castillo | 5 |
| Kumi | Spring | 2013 | Rosiell Difo | 5 |
| Kumi | Spring | 2013 | Karina Rubio | 5 |
| Kumi | Spring | 2013 | Ezeleni Herrera | 5 |
| Yemaya | Spring | 2013 | Esperanza Pacheco | 5 |
| Kimimela | Spring | 2013 | Celeste Small | 5 |
| Kimimela | Spring | 2013 | Danielle Hall | 5 |
| Kimimela | Spring | 2013 | Grayson Thompson | 5 |
| Zarya | Spring | 2013 | Yasmin Forbes | 5 |
| Zarya | Spring | 2013 | Faya Youssef | 5 |
| Zarya | Spring | 2013 | Lorrie Bertrand | 5 |
| Zarya | Spring | 2013 | Rachelle Jeanty | 5 |
| Zarya | Spring | 2013 | Nikisha Jose | 5 |
| Zarya | Spring | 2013 | Pieryne Ramos | 5 |
| Aretias | Spring | 2013 | Jade R. Jackson | 5 |
| Aretias | Spring | 2013 | Lisbet Gomez | 5 |
| Aretias | Spring | 2013 | Eva Garcia | 5 |
| Aretias | Spring | 2013 | Kayla May Austin | 5 |
| Siksika | Fall | 2013 | Melissa Mercedes | 5 |
| Siksika | Fall | 2013 | Norma Rodriguez | 5 |
| Siksika | Fall | 2013 | Nelsaris Jorge | 5 |
| Aborigena | Fall | 2013 | Jenifer Perez | 5 |
| Aborigena | Fall | 2013 | Bianca Arroyo | 5 |
| Aborigena | Fall | 2013 | Kaitlan Martinez | 5 |
| Indigena | Fall | 2013 | Andrea Suarez | 5 |
| Indigena | Fall | 2013 | Ivette Vera | 5 |
| Indigena | Fall | 2013 | Julissa Rodriguez | 5 |
| Indigena | Fall | 2013 | Cassanda Gomez | 5 |
| Indigena | Fall | 2013 | Kiera Diaz | 5 |
| Indigena | Fall | 2013 | Carmina Del Fierro | 5 |
| Destinidas | Fall | 2013 | Sindy Rodriguez | 5 |
| Destinidas | Fall | 2013 | Victoria Velasquez | 5 |
| Destinidas | Fall | 2013 | Delilah Collazo | 5 |
| Jhansi | Fall | 2013 | Samantha Fuentes | 5 |
| Jhansi | Fall | 2013 | Shameika Frias | 5 |
| Jhansi | Fall | 2013 | Margie Zapata | 5 |
| Concordia | Fall | 2013 | Rinsha Ballani | 5 |
| Concordia | Fall | 2013 | Daniella Lomo | 5 |
| Haumea | Fall | 2013 | Tyra Ferguson | 5 |
| Haumea | Fall | 2013 | Stephany Cortese | 5 |
| Haumea | Fall | 2013 | Jennifer Darbouze | 5 |
| Haumea | Fall | 2013 | Priyanka Shetty | 5 |
| Haumea | Fall | 2013 | Shantanique King | 5 |
| Xurima | Fall | 2013 | Joli Doñé | 5 |
| Xurima | Fall | 2013 | Glendalee Arvelo | 5 |
| Xurima | Fall | 2013 | Stephanie Sanjuan | 5 |
| Xurima | Fall | 2013 | Sophie Pierre-Louis | 5 |
| Nysa | Fall | 2013 | Iliana Maldanado | 5 |
| Nysa | Fall | 2013 | Jaleesa Davis | 5 |
| Nysa | Fall | 2013 | Maddie Yakal | 5 |
| Vathara | Fall | 2013 | Nicole Coleman | 5 |
| Lazuline | Fall | 2013 | Chelsea Collazo | 5 |
| Hasinai | Fall | 2013 | Ashley Davenport | 5 |
| Hasinai | Fall | 2013 | Choya McKee | 5 |
| Dhyani | Fall | 2013 | Mandonna Amirehsani | 5 |
| Dhyani | Fall | 2013 | Takeiah Perry | 5 |
| Dhyani | Fall | 2013 | Alycia Cody | 5 |
| Dhyani | Fall | 2013 | Shenica Johnson | 5 |
| Dhyani | Fall | 2013 | Sheram Serrano | 5 |
| Dhyani | Fall | 2013 | Cara Orduno | 5 |
| Dhyani | Fall | 2013 | Brittany Broner | 5 |
| Ionia | Fall | 2013 | Nelkisy Uribe | 5 |
| Ionia | Fall | 2013 | Nazreen Joemmanbacks | 5 |
| Yemaya | Fall | 2013 | Laura Mejia Suarez | 5 |
| Yemaya | Fall | 2013 | Tiara Jones | 5 |
| Yemaya | Fall | 2013 | Vanessa Arvidson | 5 |
| Kimimela | Fall | 2013 | Zuleika Estien | 5 |
| Kimimela | Fall | 2013 | Uchechi Erimma Onwauanaibe | 5 |
| Sekhmet | Fall | 2013 | Julitha Braggs | 5 |
| Sekhmet | Fall | 2013 | Natasha Rodriguez | 5 |
| Sekhmet | Fall | 2013 | Allyson Lother | 5 |
| Ākāsa | Fall | 2013 | Toni J Diaz | 5 |
Related Post