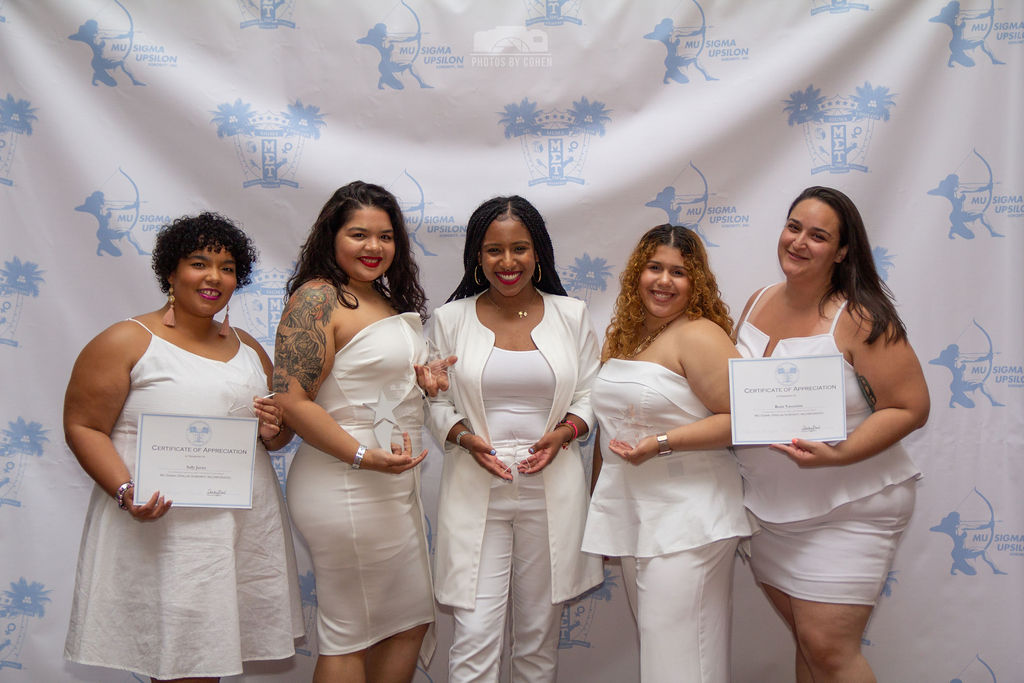 Congratulations to this year's S.T.A.R. Award recipients!
On June 15, 2019, Mu Sigma Upsilon Sorority, Inc. honored the following sisters and chapters for their accomplishments during the 2018 calendar year. Congratulations on all of your hard work and dedication to MSU and your surrounding communities!
Stellar Scholar Academia Award
Penelope Rodriguez, Atitlán Chapter
Achieving and maintaining excellence is not easy. A Stellar Award is presented to a collegiate sister who has sustained the highest level of academic performance above and beyond the prerequisites required by the National Governing Council. This sister has demonstrated commitment to striving towards our goal of Academic Excellence by maintaining a cumulative GPA of 3.8 at the Indiana University of Pennsylvania.
Alumna Achievement in Academia Award
Angie Maria Torres, Palenque Chapter
Deciding to continue with your education and enrolling in a doctoral program can be one of the best decisions a person can make. For that reason, the Alumna Achievement in Academia Award is presented to an Alumna sister who has sustained the highest level of academic performance above and beyond the prerequisites required by the National Governing Council. With a cumulative GPA of 4.0 while pursuing her PhD in Education at Capella University.
E.M.E.R.G.E. Book Scholarship
Samantha Gordon, Aretias Chapter
E.M.E.R.G.E.: Empowering MUs to Engage, Revive, Grow & Educate. E.M.E.R.G.E. is a way for NGC to identify and develop the future leaders of our organization. The NGC Internship is a chance for members to learn about the behind-the-scenes daily operations of NGC and an opportunity to gain experience for those undergraduates interested in eventually serving as a national officer. This scholarship is determined by the successful completion and participation in the NGC Internship.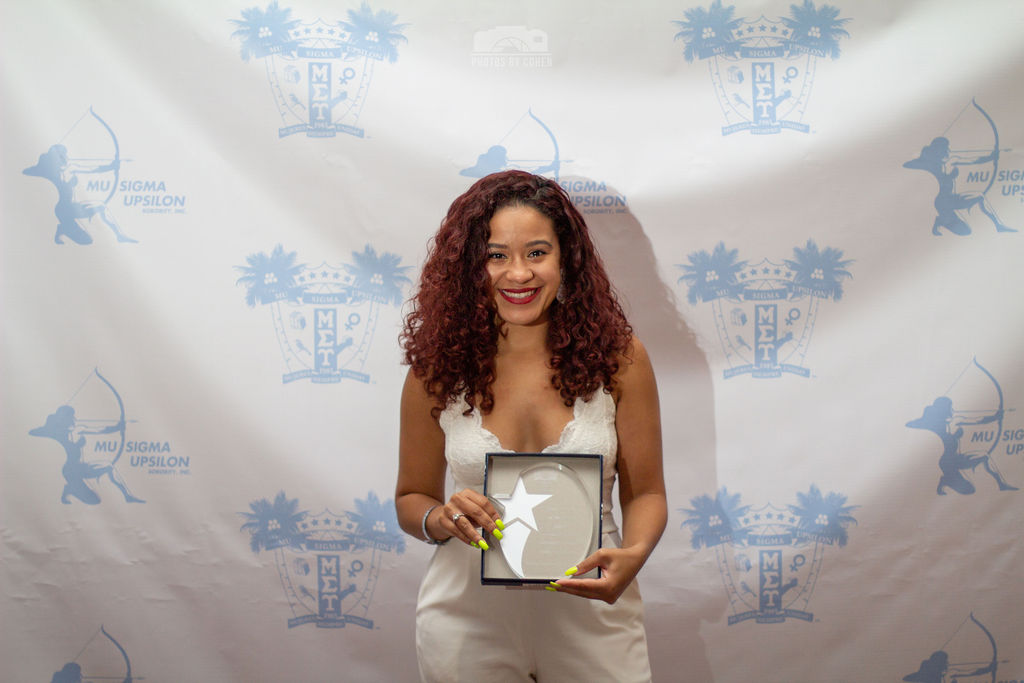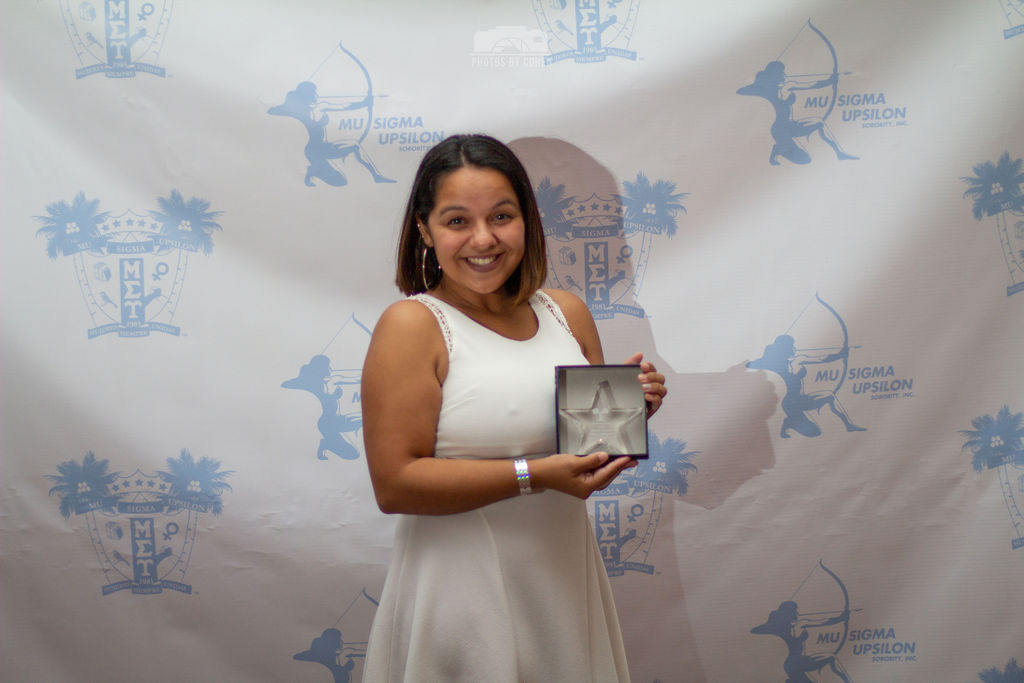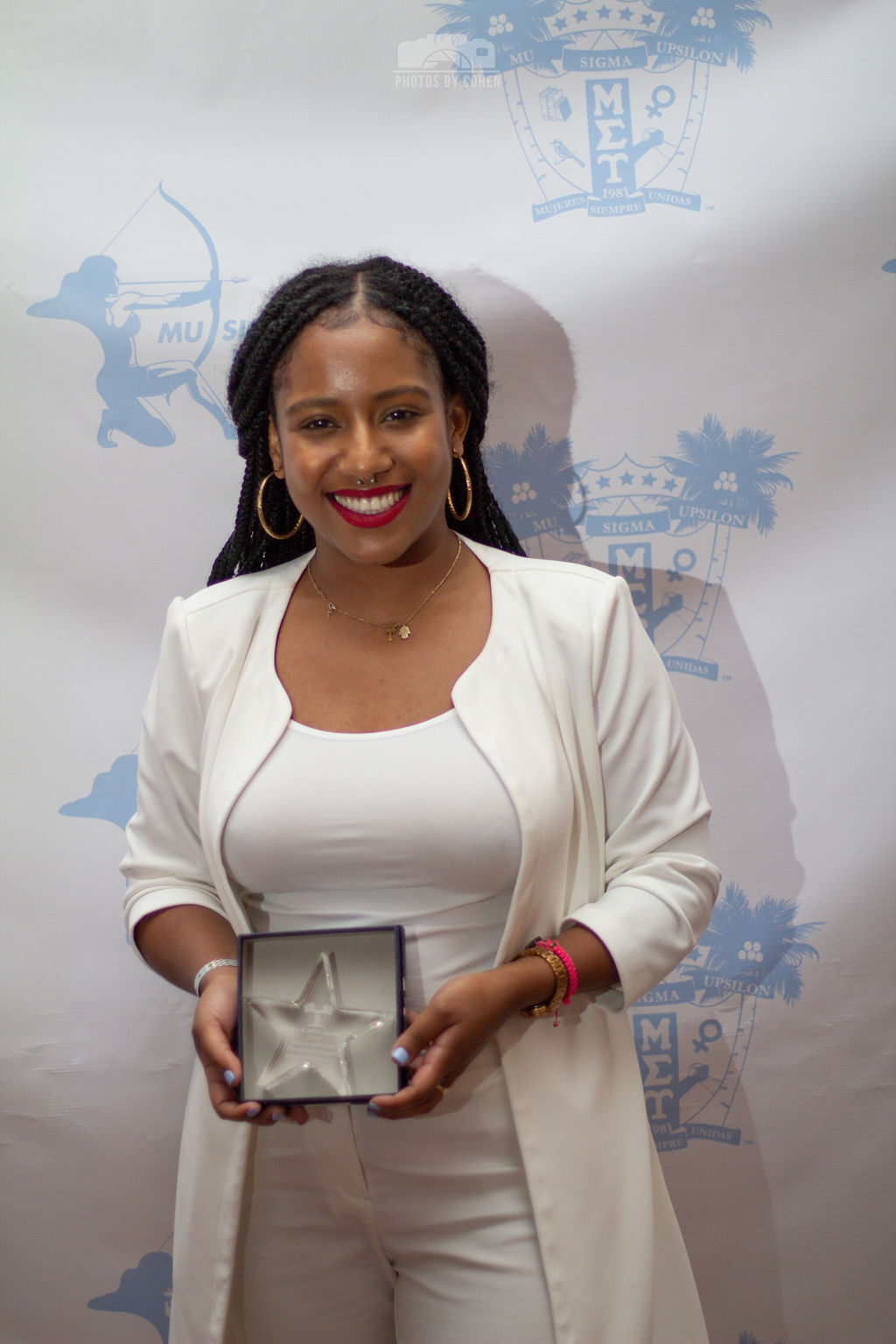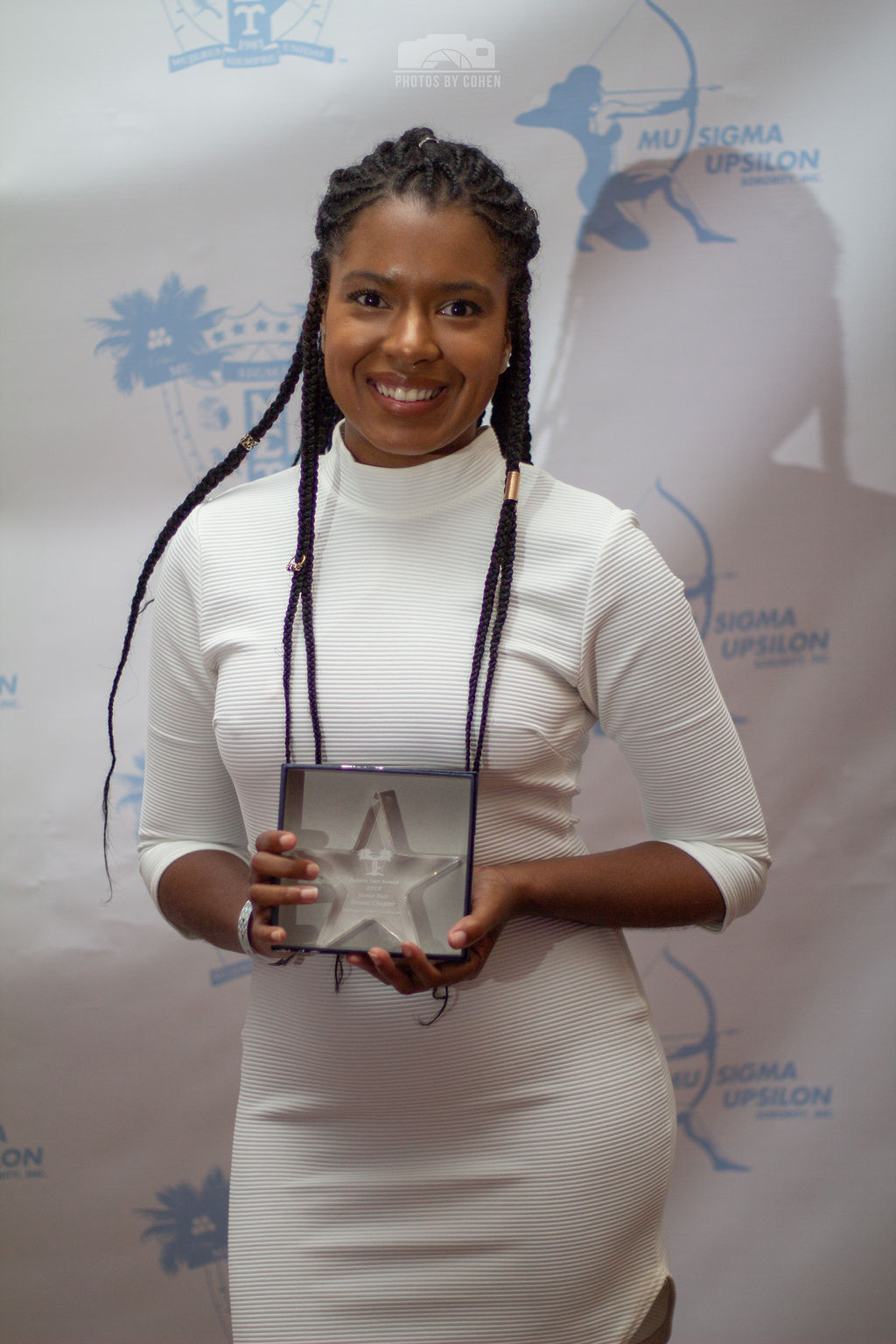 Nova of the Year
Rosario Rodriguez, Nysa Chapter
A nova is a star that suddenly increases in brightness by several magnitudes. This award honors the achievements of a distinguished collegiate sister who has personified the ideals of Mu Sigma Upsilon.
Supernova of the Year
Cassandra Gomez, Indigena Chapter
A supernova is an explosion that releases a tremendous amount of energy expelling the outer layers of the star and becomes extremely bright. This award honors the achievements of a distinguished Aretias sister who has personified the ideals of a Mu Sigma Upsilon.
Cacique Yuiza Award
Tanairi Lozada, Nysa Chapter
Yuiza, the only female Taino Cacique (chief) in Puerto Rico's history, was a legend and a hero who was greatly admired by her people. This award honors a sister who has been chosen to hold the title of Chapter Officer of Membership, and has exceeded in her role to guide prospective members as they enter our sisterhood.
Starija Sestra Award
Shana Jimenez, Ionia Chapter
Starija Sestra translates to older sister in the Croatian language. The Starija Sestra of the year recognizes a sister who has played an exemplary role as a big sister of a prospective member during the orientation process. We appreciate the dedication and time that this sister has put into raising sisters into the future of MSU.
Ubuntu Award
Nicolle Arendt, Haumea Chapter
Ubuntu is a philosophical ideal native to South Africa meaning humanity towards others. This award recognizes a sister who has organized or participated in a community service project that had a great impact within MSU and our surrounding communities.
Ida B Wells Award
Yanelis Martinez, Themiskyra Chapter
Ida B Wells was an African American journalist, newspaper editor, suffragist, sociologist and an early leader in the civil rights movement. She was active in the women's rights and women's suffrage movement, establishing several notable women's organizations.  This award recognizes a sister whose personal, professional, and/or campus involvement exemplifies human rights activism, notably women's rights.
Polaris Star Award
Jamie Ruiz, Mosaic Chapter
The star known as Polaris is the North Star and is commonly known as the guiding star. This award recognizes a sister who has excelled in her career and is considered a trailblazer, providing new paths for the next generation of female leaders. She is a prime example of a woman of power and influence in the professional world.
Chapter and District Awards
Excellence in R.A.C.E. Award
Evadne Chapter at Le Moyne College
R.A.C.E. stands for recognizing and celebrating ethnicities. This award honors a chapter who upholds MSU's foundation of multicultural ideals and has hosted an original and impactful program highlighting a cultural or diverse topic.
Astrum Award
District IV
Astrum is Latin for 'constellation'. A constellation is a group of stars forming a recognizable pattern that is traditionally named after its form. This award is presented to a District and identifies it as the district of the year based on the discretion of NGC and their interactions with their District counterparts.
Serviam Award
Hasinai Chapter at Stephen F. Austin University
Serviam is Latin for "I will serve." The Serviam Award recognizes an undergraduate chapter who has given of themselves in support of the school where the chapter is established and or community at large.
Once awarded the chapter will select a philanthropy of choice or charitable cause and the NGC will donate $50 on their behalf. This award is based on community service hours and donations towards local or national philanthropies. This chapter completed 112 hours of community service to various philanthropies in 2018.
Rising Star Award 
Atitlán Chapter at the Indiana University of Pennsylvania
A Rising Star is presented to a chapter that has been established a minimum of two years and has made significant strides within the past one or two years. Essentially, it is a chapter that is up-and-coming. It has improved their chapter status by instilling the three goals and ideals of Mu Sigma Upsilon.
This chapter has consistent received a 5 STAR rating for the last 5 years. They have achieved an average chapter GPA of 3.17 and hosted 8 community services, women's and cultural issues topic programs.
Luminosity Award
Palenque Chapter at Bloomsburg University
Luminosity is a total brightness of a huge group of stars bound together through gravitational forces. The efforts of each chapter are important elements to the success of Mu Sigma Upsilon at both local and national levels. This award is the most esteemed accolade presented to a Chapter and identifies it as the chapter of the year. It recognizes a Chapter that has exemplified and cultivated an exceptional relationship within Mu Sigma Upsilon, school and the community at large.
This chapter received a 5 STAR rating and achieved the highest overall STAR Report score for Spring and Fall 2018. They completed 36 hours of community service between 2 undergraduate members in 2018.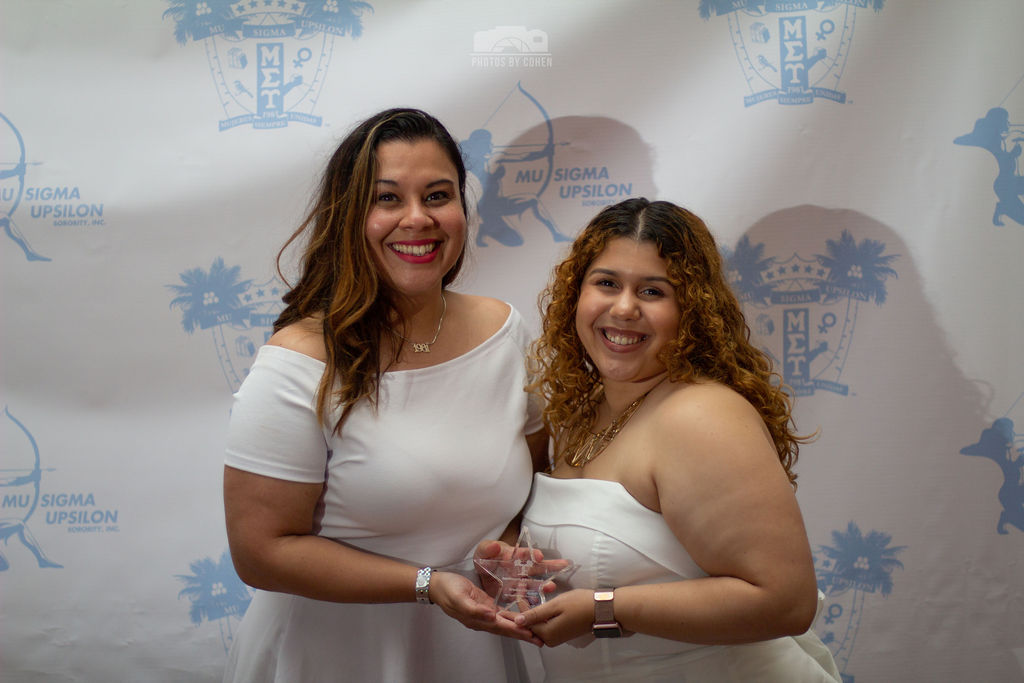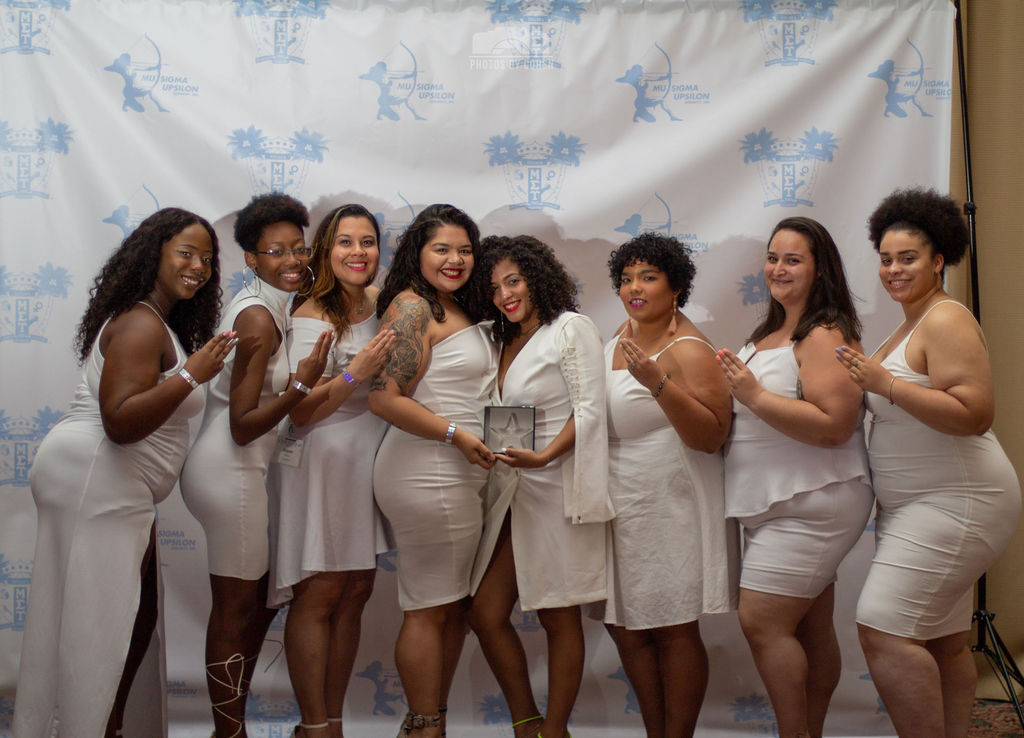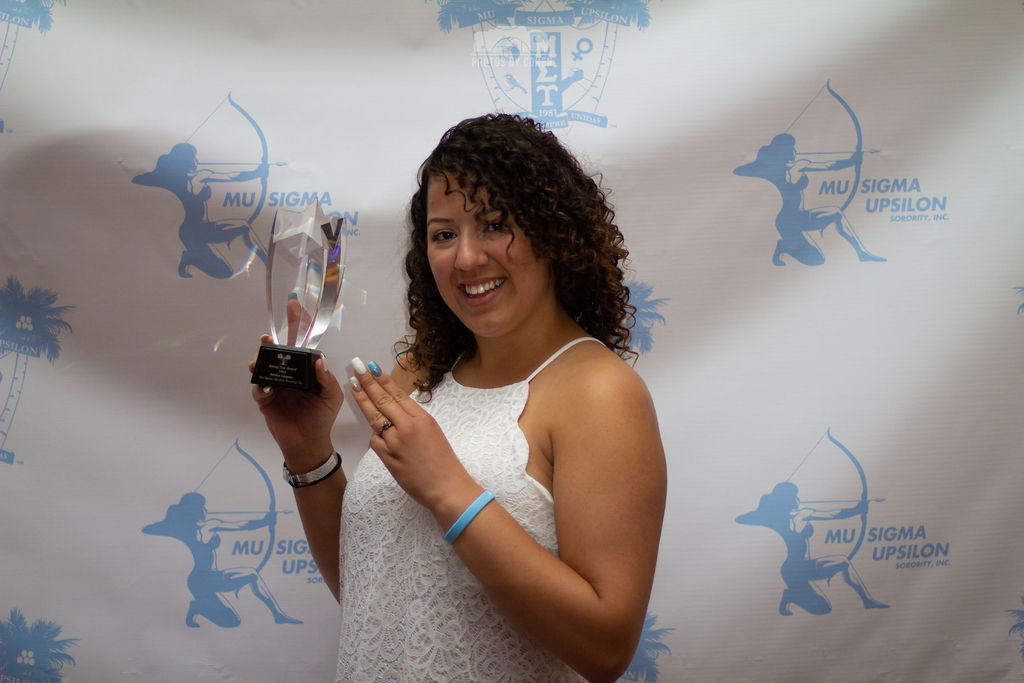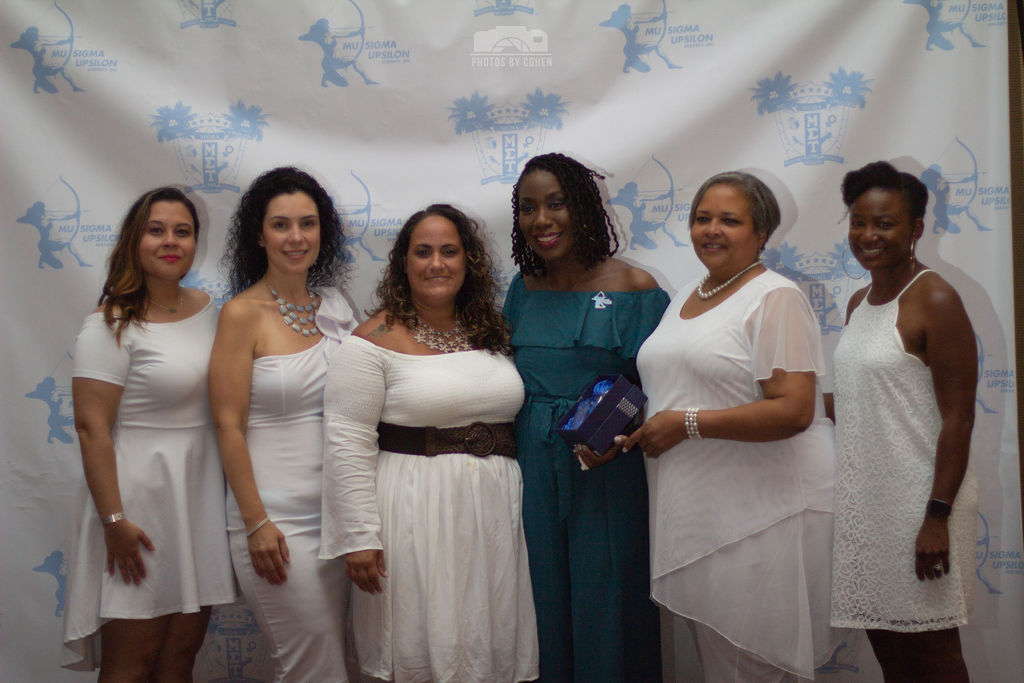 The Star of Mu Award, established in 1997, is a lifetime achievement award. The hallmark of each recipient is a sterling record of notable career accomplishments, complemented by a history of exceptional contributions to MSU. It honors an Aretias sister who has brought honor and distinction to MSU by making significant offerings to our organization and the community.
The recipient of the Star of Mu Award is Danielle Smith, Amazona Chapter
As a sister for over 25 years, Danielle has served our sisterhood at all levels. She joined the National Governing Council as Vice President from 2003 to 2005 and most recently served as the National Officer of Risk Management from 2015 to 2017. She was fair, honest, at times strict, but always empathetic and understanding. Simply put, she got things done. You knew if she said she was handling something, it was taken care of.
Danielle earned this honor many years ago. Now after experiencing the devastating loss of her sisterhood, it is even more important that we honor her legacy with this 2018 STAR of Mu Award.
Related Post