Strong, Fierce, Independent: A Modern-Day Amazon Woman
A woman in all her glory, clothed in robes of confidence and grace.
Strong, fierce, independent. The wind rushes through her hair, and she is a beautifully fearsome sight. Bow and arrow in hand, she looks him straight in the eyes as she fires the arrow into his chest. Perfectly aimed after years of training, the arrow hits its mark, but the woman is already gone like mist in a summer breeze. Riding her horse in search of her next target, the woman has no doubt in her abilities, and trusts the training she has received from her matriarchal community. An Amazon woman. The most powerful tribe of women ever mentioned in history.
The Amazons were a group of women who were said to train for war against men. Only favoring the female gender, the Amazons were strictly against marriage, which they viewed as slavery to would-be husbands and children. Aiming to be free and fierce, the Amazons kept their race alive by mating with those they conquered and killing any male procreation. The lucky few were sometimes blinded, or even allowed to live with their fathers. In contrast, female children were protected and raised to be powerful warriors. Amazons accepted no weaknesses and lived a life of war.
The Amazons might seem like an extreme case of feminism to some, however, they serve as a great role model for women who wish to be independent. Mu Sigma Upsilon Sorority, Incorporated is an organization that prides itself on the development of strong, fierce, and independent women. The Amazon woman is our mascot because Amazons are strong in both body and mind much like we strive to be. While the sisters in Mu Sigma Upsilon do not act with the intention of killing their male counterparts, they also take after the Amazon women because of our confidence. We do not submit to anyone but ourselves.
Video/Image Contribution By: Sabrina Colón, Dhyani Chapter
Blog Contribution By: Djenne Dickens, Yemaya Chapter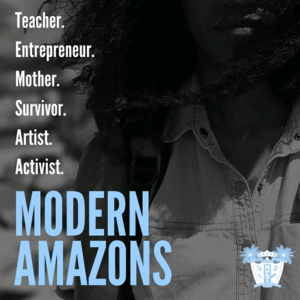 Related Post